HPC Hydraulic Cone Crusher
Introduction of HPC Hydraulic Cone Crusher
Cone crusher is mainly used in metal mining, construction sand crushing and processing of second and third sections of broken links, because of the high crushing capacity, large production, and then HPC cone crusher production line is used for river stone and other medium hard stone.
In addition, HPC hydraulic cone crusher is safe enough, and the content of 0-8mm gravel of the final product is very high, and has great advantage in actual use, the whole production line is stable, good shape, fully according to the requirement of the construction sand, and enjoy a high praise among customers.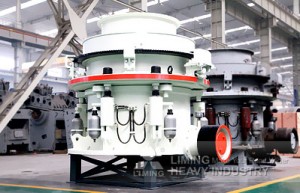 Features of HPC Hydraulic Cone Crusher
1)      Energy efficient and environment friendly
With fixed main shaft, a small spherical structure optimization reciprocal axis, it can reach higher than the old spring cone crusher efficiency by 5% -15%.
2)      Increase in production
The crushing stroke, crushing speed and crushing cavity design contribute to the increase of the capacity of 35% -60% comparing with the old spring cone crusher
3)      More uniform size.
Using the unique laminated crushing principle produce crushing effect between particles, reducing flakiness stones, more uniform size.
4)      Stable running
When the unbroken material go into the cavity, the protect device will discharge it and then reposition quickly.
5)      Application environment
a. HPC is a new hydraulic cone crusher, more secure and stable operation, easy maintenance; downtime is short, guaranteed yield, more suitable for large-scale sand and gravel production systems.
HPC cone crusher adopts multi-point split hydraulic lubrication control system, bearing lubrication and overload capability is stronger, so that the degree of automation of the entire production line is greatly improved.
c. HPC cone crusher cavity and the stroke has been re-experimental design, more suitable for crushing river stone, basalt, iron ore and other hard materials and  the production increased by 35% -60% than ordinary spring cone crusher.
Specifications of HPC Hydraulic Cone Crusher
Type
Cavity (coarse/fine)
Outlet adjustment range (mm)
Feed size (mm)
Capacity (t/h)
Power (kW)
Weight (t)
movable cone diameter (mm)
HPC-160
C
12-20
135
100-200
160
13
950
F
5-20
76
55-150
HPC-220
C
15-38
185
150-300
220
18.5
1160
F
6-25
110
70-180
HPC-315
C
19-45
265
190-400
315
26
1400
F
9-30
150
100-200
HPC-400
C
25-50
320
250-500
400
33
1500
Note:Any change of technical data shall not be advised additionally.