LUM Ultrafine Vertical Mill
Introduction of LUM Ultrafine Vertical Mill
LUM Ultrafine Vertical Mill is new ultra-fine grinding equipment designed by Liming Heavy Industry, on the basis of 27 years of experience in development and manufacturing four generations mill and introducing grinding roller technology from Germany.
LUM Ultrafine Vertical Mill mainly consists of motor, reducer, roller device, disc device, pressing device, separator, main body, petrol stations and other components.
It makes envisage of superfine powder grinding, classifying and transportation operations one-time complete comes true. And its processing crafts, mechanical properties and quality of the finished powder and other technical index are comparable to the world level.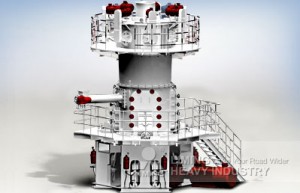 Features of LUM Ultrafine Vertical Mill
1). High efficiency, low pollution.
2). Technology advanced, energy efficient.
3).With safe & efficient operation and intelligent control system
4). Less wear and tear, maintenance convenient and environmental
Specifications of LUM Ultrafine Vertical Mill
Model Specification Name
LUM1125X
LUM1232X
LUM1436X
Intermediate diameter of the millstone (mm)
1100
1200
1400
Quantity of the rollers(piece)
3
3
3
Granularity of the feeding material D90(mm)
< 10 Max. 15mm
< 10 Max.15mm
< 10 Max.20mm
Moisture of the feeding material
< 3%
Capacity (t/h)
5~14
7~16
9~18
Fineness(mm)
Generally in 0.045-0.02, the finest can reach 0.01.
Power of the main motor(KW)
250
315
355
Power of multiple powder concentrator & quantity
15KW×5
15KW×7
15KW×7
Note:Any change of technical data shall not be advised additionally.