VSI5X Vertical Shaft Impact Crusher
Introduction of VSI5X Vertical Shaft Impact Crusher
VSI5X Vertical Shaft Impact Crusher has crushing, sand making and shaping functions. Therefore it is always used as the last procedure in the crushing and sand making production line. For sand making, the medium and hard materials fewer than 35mm can be broken into 5mm as the final sand. For shaping, it can shape the flaky materials fewer than 35mm into the qualified materials of good grain shape. Therefore it is wildly used in the field of pebble, rocks, ore tailings and stone chips to make sand and the field of water resources and hydropower, high-grade highways, highway, high-speed train, passenger transport line, bridge, airport pavement, municipal engineering and high-rise buildings to shaping and making sand. It can also used as the front broken in the mineral industry and crushing building material, metallurgy, chemical, mining, fire-proof material, cement, abrasive and other materials. VSI5X efficient centrifugal impact crusher adopts the wear-resistant and high temperature resistant materials imported from the United States. In addition, a number of patented technology like the optimized design of rotor, the hydraulic opening cover device all make the capacity increased by 30%, the lifespan increased by 48% and the operation cost reduced by over 30%.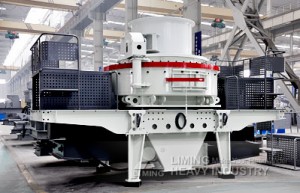 Features of VSI5X Vertical Shaft Impact Crusher
1)Combined hammer design, only need to replace the wearing part, can reduce the operation cost by over 30%. And the use of vice hammer can prevent damage to the vertical plate after the main hammer worn.
2)The key components' material adopt the wear-resistant and high temperature resistant materials of the important industries in the USA.
3)Rhombus shaped impact plate is used to prevent the damage of the vertical plate.
4)The selection of bearing is international brand from Japan, Sweden, America, etc.
5)The design of optimal launch mouth and smooth curve reduced the flow resistance .
6)Japanese hydraulic opening cover device is originally imported. The cover is moved easily and replacement and inspection of inner part is easy.
Specifications of VSI5X Vertical Shaft Impact Crusher
1. Main technical parameters:

model
VSI5X7615
VSI5X8522
VSI5X9532
VSI5X1145
Throughput capacity (t/h)
Center and Ring feeding
150~280
240~380
350~540
500~640
Center feeding
70~140
120~190
180~280
250~360
Max. Feed Size (mm)
Soft material
<35
<40
<45
<50
Hard material
<30
<35
<40
<45
Rotation speed (r/min)
1700~1900
1500~1700
1300~1510
1100~1310
Power of double motor (KW)
150
220
320
440
Overall dimension L×W×H (mm)
4100×2330×2300
4140×2500×2700
4560×2600×2900
5000×2790×3320
Weight (t)
8.6
11.8
17.5
27.5
Power source
380v,50Hz
Thin oil lubrication station
Power for double oil pump
2 x 0.37 KW
Safety
To make sure the supply of oil with double oil pump, working without oil, temperature when water cools, start the motor by heating it in winter.
Power for oil box heater
2 KW
Overall dimension L×W×H (mm)
820×520×1270

Note: Capacity depends on crushing limestone, material size, moisture and features also affect capacity.

2. Lubricating system parameter:

| | |
| --- | --- |
| Oil box volume (L) | 240 |
| Rated pressure (MPa) | 0.63 |
| Flow capacity (L/min) | 8 |
| Power (KW) | 0.31 |
| Cooling water consumption (m3/h) | ≥1.2 |
| Electrical heating voltage (V) | 220 |
| Medium | Bearing oil 32—46# |

Note:Any change of technical data shall not be advised additionally.