VSI Vertical Shaft Impact Crusher
Introduction of VSI sand making machine (VSI vertical shaft impact crusher)
VSI sand making machine is specially designed for highway, high-speed railway, high-rise building, municipal administration, hydroelectric dam construction, concrete mixing station to provide high quality sand aggregate, which is the preferred sand making equipment in the field of artificial sand and stone shaping.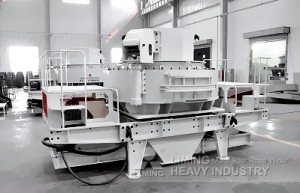 Features of VSI sand making machine (VSI vertical shaft impact crusher)
1) High quality materials and advanced technology is used, which improve the quality of equipment and appearance quality and ensure the low failure rate. The best material impact angle crushing chamber design reduces wear and operation cost and makes the capacity increased by 30%.
2) With unique feed crusher structure and a variety of crushing chamber, this machine can realize "crushing between materials" and "crushing between materials and liners" changes easily, which makes the size and the shape of the finished product is excellent, reasonable gradation and fineness modulus is adjustable. The sand making machine is suitable for the application of artificial sand and stone shaping, etc.
3) Hydraulic open device makes it easy to repair and maintain, can save time and effort. Vibration display and alarm device, can automatically detect, which makes it safe and reliable. Thin oil lubrication station and two complementary oil pumps ensure that the bearing lubrication is always in the best condition, which makes the life time increased.
4) Unique design of air circulation system greatly reduce the outside exhaust volume, little dust, small noise, it is good for environmental protection, and it can be configured a variety of specifications of the dust removal equipment, strengthen environmental protection.
Specifications of VSI sand making machine (VSI vertical shaft impact crusher)
Model
VSI7611
VSI8518
VSI9526
VSI1140
Capacity (t/h)
Center and Ring feeding
120-180
200-260
300-380
450-520
Center feeding
60-90
100-130
150-190
225-260
Max Feed Size (mm)
Soft material
<35
<40
<45
<50
Hard material
<30
<35
<40
<45
Rotation speed (r/min)
1700-1890
1520-1690
1360-1510
1180-1310
Power for double motor (kW)
110
180
264
400
Overall Dimension L×W×H (mm)
4100×2250×2285
4140×2280×2425
4560×2450×2780
5100×2690×3200
Weight (t)
7.8
10.3
16
25.6
Power Source
380v 50Hz
Vibrating Sensor
Inspect scope: 0.1-20mm/s adjusted continuously
Lubrication hydrauli pressure station
Power for double oil pump
2×0.31kW
Safety
To make sure the supply of the oil with double oil pump; stop working without oil or hydraulic pressure; temperature falls when the water cools; start the motor by heating it in winter.
Overall dimension L×W×H(mm)
820×520×1270
Power for oil box heater
2 kW
Note:Any change of technical data shall not be advised additionally.